The summer of 2015 marks the 20th
anniversary of Children at Heart!
To celebrate this special anniversary, we are planning to host our annual picnic later this year in NC! Details to come soon!
If you would like to be a sponsor or help in any way with this event, please contact us at 910.763.4414 or CAHadoptions@aol.com
__________________________________________
It's time for the...
2015 Fitness Coach
Marathon Challenge!
A note from Alan Blond, the founder of The Fitness Coach in West Sand Lake, NY:
Tomorrow, June 19th Sue and I and Samantha and Drew will be celebrating our 5 year anniversary of
the day Astana became our special and wonderful addition to our family. Obviously it is a day we will never forget, we consider it as our Christmas, a day
we received the most precious gift of all.

So it is with great enthusiasm and determnation that
I announce that the 2015 Fitness Coach Marathon Challenge is officially underway. The goal is to get as many of you involved as possible to raise money for orphans, babies, birthmothers and adoptive families. Our marathon team will be running the Niagara Falls Marathon on October 25th. This marathon is very cool as it will start in the United States and end in Canada at Niagara Falls. We already have 3 runners committed and would love some more to join us.
Please give it some thought as it is a way to motivate yourself and raise money for a great cause at the
same time. I will assist anyone in their training
if you accept the challenge.
MANY OPTIONS TO MOTIVATE YOURSELF
AND SUPPORT OUR CAUSE- The concept behind the Fitness Coach Marathon Challenge is simple-
get out and move, challenge yourself, and to help us raise money. You can register for any event with us
or in your own area. It can be a 5k, 10k, half- marathon or a full marathon. Challenge yourself, commit and become part of our team. Here locally,
we are now preparing for the Saratoga 5k and half- marathon on July 12th. Please consider joining
many of your Fitness Coach friends and participate.
There is still time to train and to raise money.
PLEASE consider participating in the 2015 Fitness Coach Marathon Challenge. If you do, I promise
you will never feel better doing something so rewarding. Please feel free to contact me at SBlond@nycap.rr.com if you would like more information, or if you have any questions.
THANK YOU FITNESS COACH
FAMILY AND FRIENDS!
If you would like to join Alan in raising money for Children at Heart, use the following link to connect with The Fitness Coach on their facebook page:
__________________________________________
Hess Truck Fundraiser
Going on now!
Children at Heart is selling Hess trucks
from years 1975-2006, as well as mini
Hess trucks from years 1998-2008.
  Large trucks can be purchased
for as little as $25 each,
and mini trucks
for as little as $5 each.
See photos of some of
the trucks on our
Facebook page listed under
"Children at Heart".
To place an order, email
CAHadoptions@aol.com
100% of the proceeds from each Hess
truck purchase will support Children
at Heart's adoption programs and
humanitarian aid funds.  Children at
Heart has placed nearly 500 orphans
in happy homes, and provides services
for local birthmothers and children -
please support their mission!
__________________________________________
Children at Heart Sweatshirts
are on sale now!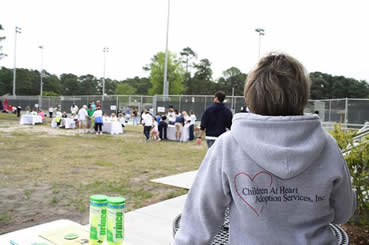 Purchase your sweatshirt online
or at our NY office!
$35 for adult sizes (small, med, large, xlarge),
$38 for adult 2xlarge.
$25 for youth sizes (small, large, xlarge).
$7 flat rate shipping/handling per sweatshirt.
These are nice hoodies with a pocket in the front - small logo on front (upper right corner)
and large logo on the back, as pictured.
To have your sweatshirt shipped, email your
order to CAHadoptions@aol.com.
Questions? Call Kathy at 518.664.5988.
______________________________________________
Become a sponsor of Children at Heart!
Help us continue with our mission to
find homes for children in need.
Click here to learn more:
Children at Heart Sponsorship Form
_________________________________________
Online Office Warming!
Children at Heart adoptive families:
please help us with our goal to fill our
office with pictures of your children!
Please email us your favorite pictures of
your adorable children, and send us a $45
donation - and we'll create canvas prints for
ourbare walls!  Each picture will be enlarged
to a 16 X 20" canvas print at the cost of $45
per canvas.  Your pictures will motivate
other to adopt - prospective adoptive families
are always moved when they see pictures
of children who have been adopted
through our programs.
Click here to read full details on this ongoing event:
CAH Online Office Warming Info
_________________________________________