Mark your calendars for our
19th annual family picnic!!
Saturday, August 23rd
11am-2pm
Town of Halfmoon Park Club House
162 R. 236 Halfmoon, NY 12065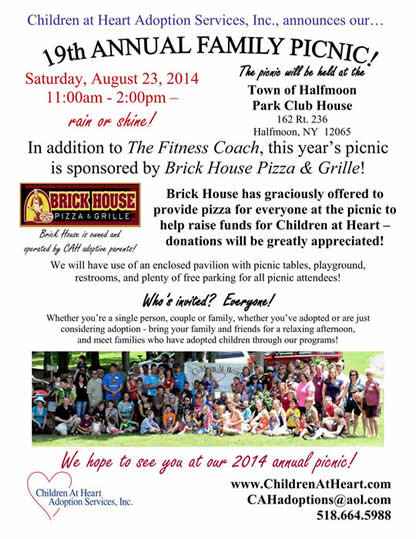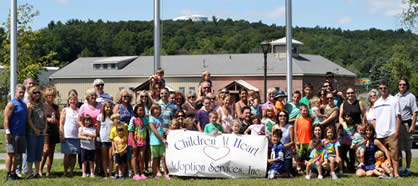 We had such a great time at our 18th annual family picnic this summer in Halfmoon, NY! Thank you to all of the families who attended this year -
we loved seeing everyone!
And a very special thank you goes out to
Brick House Pizza & Grille
who sponsored this year's picnic!
www.brickhousepizzaandgrille.com
Brick House provided pizza for everyone
for donations to Children at Heart!
Brick House is run by one of our
adoptive families - we are so excited
to have them as a sponsor at the picnic.
Not only do they make great pizza,
but they are a great family!
Our other sponsor this year was Greco Construction - we so appreciate their ample donation to provide bottled water and drinks for the picnic!
We would also like to thank the Blond family for
their donations and help with this even! We are so blessed to have the support of this amazing family!!
__________________________________________
Hess Truck Fundraiser
Going on now!
Children at Heart is selling Hess trucks
from years 1975-2006, as well as mini
Hess trucks from years 1998-2008.
  Large trucks can be purchased
for as little as $25 each,
and mini trucks
for as little as $5 each.
See photos of some of
the trucks on our
Facebook page listed under
"Children at Heart".
To place an order, email
CAHadoptions@aol.com
100% of the proceeds from each Hess
truck purchase will support Children
at Heart's adoption programs and
humanitarian aid funds.  Children at
Heart has placed nearly 500 orphans
in happy homes, and provides services
for local birthmothers and children -
please support their mission!
__________________________________________
Children at Heart Sweatshirts
are on sale now!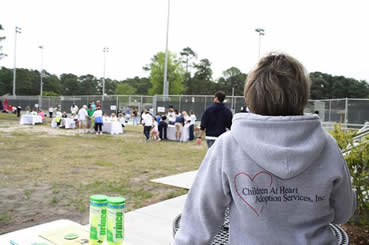 Purchase your sweatshirt online
or at our NY office!
$35 for adult sizes (small, med, large, xlarge),
$38 for adult 2xlarge.
$25 for youth sizes (small, large, xlarge).
$7 flat rate shipping/handling per sweatshirt.
These are nice hoodies with a pocket in the front - small logo on front (upper right corner)
and large logo on the back, as pictured.
To have your sweatshirt shipped, email your
order to CAHadoptions@aol.com.
Questions? Call Kathy at 518.664.5988.
______________________________________________
Become a sponsor of Children at Heart!
Help us continue with our mission to
find homes for children in need.
Click here to learn more:
Children at Heart Sponsorship Form
_________________________________________
Online Office Warming!
Children at Heart adoptive families:
please help us with our goal to fill our
office with pictures of your children!
Please email us your favorite pictures of
your adorable children, and send us a $45
donation - and we'll create canvas prints for
ourbare walls!  Each picture will be enlarged
to a 16 X 20" canvas print at the cost of $45
per canvas.  Your pictures will motivate
other to adopt - prospective adoptive families
are always moved when they see pictures
of children who have been adopted
through our programs.
Click here to read full details on this ongoing event:
CAH Online Office Warming Info
_________________________________________
Children at Heart hosted
the 2nd annual

CHARITY DOUBLES
TENNIS TOURNAMENT
on July 27-28, 2012
at the Althea Gibson Tennis
Complex at Empie Park
in Wilmington, NC
Over 70 players turned out for the event - including sponsorship donations, we raised just over $5,000!
There were four playing levels, and anyone ages 14
and up were invited to play in the event. The winning team for each level took home some amazing prizes -
all winning team members received $60 in gift
certificates to local shops and restaurants, as well
as a bottle of wine provided by ONEHOPE Wine.
Each tennis player received a gift bag at registration,
dinner on Friday evening provided by Jones Fish
Camp, and lunch Saturday afternoon courtesy of Pizzettas Pizzeria (both restaurants were returning sponsors from last year!). There were also complimentary chair massages, a wine tasting,
as well as bottled water, sports drinks, and beer
throughout the tournament! New this year was a
lounge set up provided by A Boxed Event, and a
live band - SRO Band - performed during play on
Friday night. Both were wonderful additions to
the tournament! We hope to provide all this
and more at next year's event!
We had some amazing sponsors for this event -
in addition to those liseted above -
see the full list below!
Thank you to everyone who participated in
our first annual Aces for Orphans Charity
Doubles Tennis Tournament!
Congratulations to the
2012 winning teams!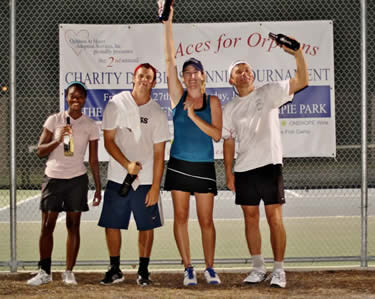 Team En Fuego - Open Level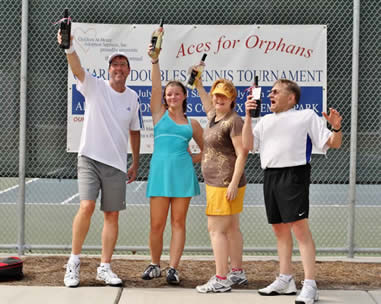 Glancy's Team - 6.5 & Below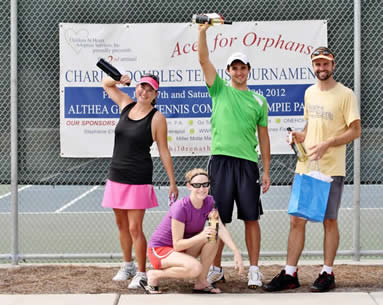 Team Step Up Revolution - 7.0-7.5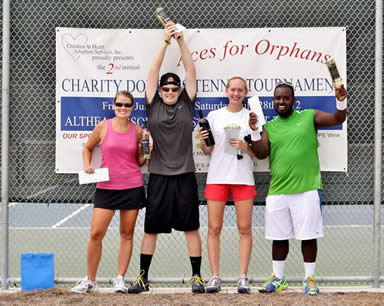 Team Chicken Spiedies - 8.0-8.5
Sponsors for the second
annual Aces for Orphans
Charity Doubles
Tennis Tournament:
Smash Level ($50-99):
Wilmington Water Tours
The Dixie Grill
Hell's Kitchen
Fuzzy Peach
The Top Toad
Adam Carswell at Tony's Guitars
Ace Level ($100-299):
Carolina Pediatrics of Wilmington, P.A.
Polka-Dotted Flamingo
https://www.facebook.com/pages/Polka-Dotted-Flamingo/44351433261?ref=ts
BrightStar Care
Gold's Gym of Wilmington
Coastal Crossfit
N2 Touch Massage Therapy
Hampton Inn Medical Park
Belvedere Country Club
Tom Willock, head golf professional
at Belvedere Country Club
Chick-Fil-A, Oleander
Rita's, on Front Street
Hot Shot Level ($300-499):
The Tennis Connection
Grand Slam Level ($500+):
WWAY NewsChannel 3
A Boxed Event
Pastore & Associates
Highsmith Law Firm, P.A.
Jones' Fish Camp
Pizzetta's Pizzeria
http://pizza.gonecoastaldesign.com/
ONEHOPE Wine
Stephanie Ellis,
Licensed Massage Therapist
Miller Motte Technical College,
Massage Therapy Program
The Blond Family
_________________________________________